With summer almost in full swing, and the temperature's starting to rise with rain subsiding, it's time to start getting back outside and enjoying the beautiful weather. Pleasant Hills residents and visitors will be ecstatic to know that a hidden gem exists within the boroughs. Mowry Park, while not the largest park in the area, Pleasant Hills being about 3 square miles, is terrific for getting outdoors and enjoying the fresh air, and beautiful scenery.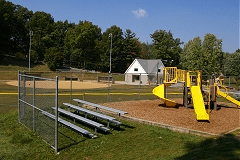 Visitors to the park can walk the trail lining the area, and take in the fresh flowers, grassy areas, and mature trees. It is one of the perfect places in the area to take dogs on walks and play in the outdoors. But the park is much more than just a green oasis; there are also significant opportunities to make Mowry Park a destination to hold events.
For those that have looked for a place to hold a birthday party or family reunion this summer, Mowry Park has every accommodation needed. From covered gazebos, picnic tables, and restrooms. Visitors may even bbq on-site making this one incredible place to host a party. There are four picnic shelters within the park, and to reserve your spot this summer, you must contact the City. The cost of booking your location is very reasonable compared to other venues and is very family friendly. Picnic shelter 1 and 2 are slightly more expensive but offer a larger space, and works well if you have a larger group. Shelters 3 and 4 are only $50.00 to reserve and is excellent for smaller gatherings or hosting birthday parties. Reservations start April 15th and run until late October.
Mowry Park is also home to a sports arena, and during the summer days, you can find many activities going on such as baseball/softball. There are a baseball diamond and soccer park. You will see on any given day community groups out playing games and take on neighboring rivals. There seems to be a community group for every sporting activity, and they are held at Mowry Park. After you have visited the park, either for a sporting event or just enjoying the sunny days, upload pictures to their Facebook page and share with the other people, who have visited!
The park is also a terrific place to get the kids out this summer and enjoy the beautiful day. Don't let the little ones sit inside and miss out on Mowry Park's playground area. Here kids can interact with other children, and be more social and active. Parents can leisurely enjoy reading or browsing their phone in the shaded areas, benches provided. The park is ideal for any age, even toddlers, so grab the family and stop by. Mowry Park is a free destination close to home, that offers a pleasant time, every time. Read more on places of interest in Pleasant Hills, PA, Getting Active This Summer at Breisinger Field
Kwiatkowski Plumbing is a Pleasant Hills plumber for clogged drain and many other residential plumbing services. We provide 24/7 emergency plumbing repairs for the area. We are also Pleasant Hills plumber for backed up toilets. If you are in need of repairs, give us a call!
See directions here:
Mowry Park
Pleasant Hills, PA 15236, USA
Head north on Dutch Ln toward Mowry Dr
0.8 mi
Turn left onto Old Clairton Rd (!Pass by Citizens Bank – on the left in 0.5 mi)
0.6 mi
Use any lane to turn left onto Clairton Blvd
0.3 mi
Turn right onto Fidelity Dr
0.9 mi
Turn right onto Streets Run Rd (!Destination will be on the right)
0.1 mi
Kwiatkowski Plumbing
1338 Streets Run Rd, Pittsburgh, PA 15236, USA
Please follow and like us: