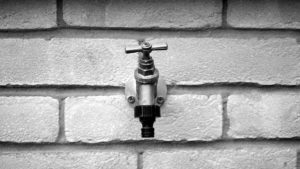 Remove The Old Faucet
If you want to replace your old kitchen faucet, there are several steps that you are going to have to take before you can install your new, clean faucet.
Turn Off Water Valves
The first step is, of course, going to be turning off the water valves which are located under the sink. If you have a disposal, turn it off.
Disconnect Supply Lines
Now, you can disconnect the supply lines. When you disconnect them, there will still be some water in the lines. It is normal, even if you did turn off the water valves. All you have to do is keep a bucket to catch the water as you make the disconnections.
Loosen Nuts Holding Faucet
With that step taken care of, you can now begin removing the old faucet. While you go under the sink and remove the bolts and nuts that hold the faucet in place, you can have someone else hold the faucet. It ensures that it does not fall, nor does it get damaged.
Remove Faucet
You are now free to remove the faucet from the sink! Once it has been completed detached from the sink and the cupboard, you are going to have to clean off any remnants of grime and sealant, as this will keep the new faucet from getting a clean and clear grip.
Installing The New Faucet
The moment of truth has arrived in your kitchen faucet replacement venture – installing your new faucet! This step requires patience, and of course, the beautiful new faucet that you want to add to your kitchen. All kitchen faucets are going to be slightly different, so it is important that you follow all installation directions from the manufacturer.
Trim Ring Placement
A trim ring or a rubber gasket is going to come with your new sink. You will place these over the holes for the faucet, along with the deck plate. The instructions will tell you whether you should use caulk or plumbers putty, as well as how to use it.
Feed Faucet Lines
Regardless of your faucet type, you are going to have to feed the faucet lines into the hole or holes. It is how your faucet will connect to your water supply and will allow it to function as intended.
Washers And Nuts Installation
This step is going to be dependent on the individual unit that you have purchased. You must install the washers and nuts as called for in the directions, as well as cleaning off any plumbers putty or caulking that you had to use for the trim ring installation. Your kitchen faucet replacement is almost complete, one step left!
Connect To Supply Pipes
Your final step is going to be connecting the supply lines to the faucet. Now, your sink is fully functional and ready to go!
Please follow and like us: